Call for Applications: 2015 Editorial Residency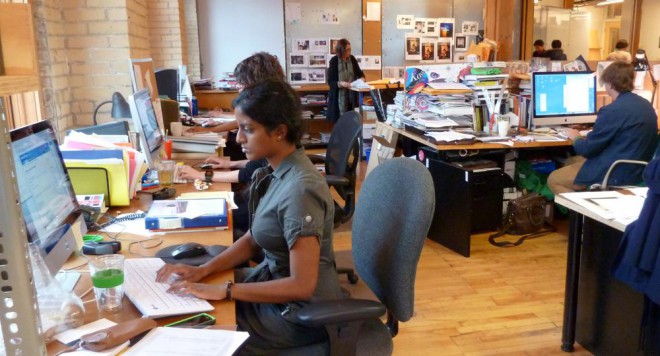 We are now accepting applications for the 2015 Canadian Art Foundation Editorial Residency. The residency is a national prize awarded annually to a current undergraduate, graduate or other post-secondary student with an interest in developing expertise in the realm of professional art-magazine publishing. Now in its 11th year, the prize awards an 11-week summer residency at Canadian Art, along with a $7,000 prize. The winner will hone writing and editing skills while learning production procedures for online and print media atCanadian Art. This introduction to art-magazine publishing and writing is intended to foster new editorial and critical talent, and to provide hands-on experience working in the field.
The 2014 residency was won by emerging curator, writer and art-history student Natasha Chaykowski, who said of her experience:
Being the editorial resident at Canadian Art provided me with an unparalleled and rare opportunity to learn about the production of print media. Having only previously worked with online publications, I found this to be an incredibly formative and instructive experience. In addition to learning about magazine production, I was also able to further develop my writing style and hone editing skills—both of which are essential for working in publishing specifically, but also in the arts more generally. The skills I gained this summer at Canadian Art have already been and will continue to be proven invaluable.
To apply, send a 500-word review of a contemporary-art exhibition, a list of titles of recent academic and/or professional writing on art, a cover letter and a one-page CV.